Ministry of Environment 'Support for international commercialization of environmental technology'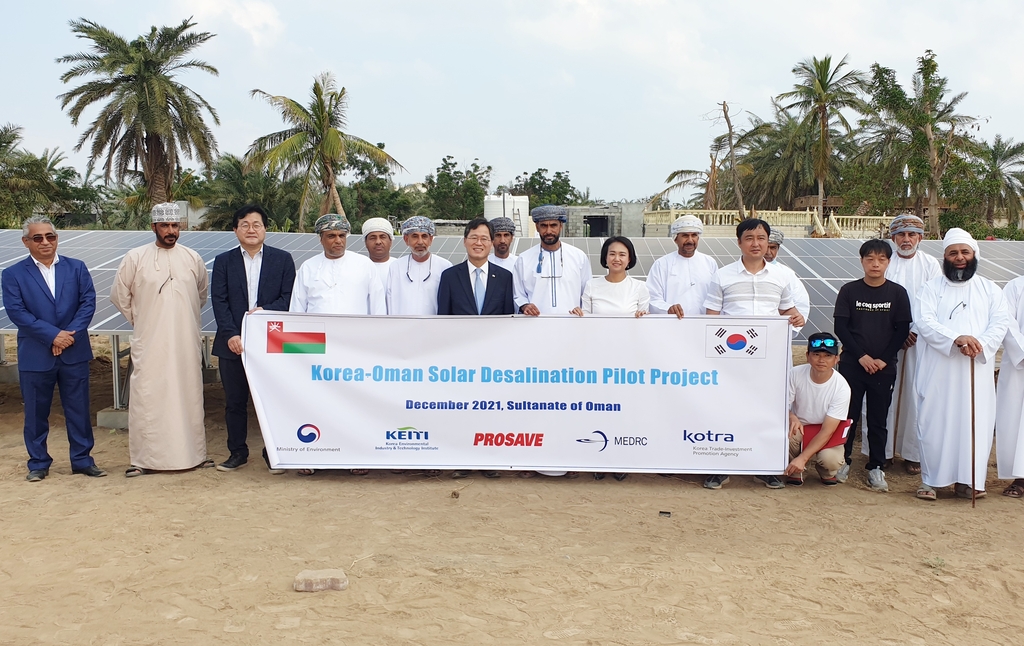 Experimental installation of seawater desalination plant based on renewable energy in Oman
(Muscat = Yonhap News) A commemorative photo is taken after the installation of a seawater desalination device test developed by a Korean company at a farm in Muscat, the capital of Oman, on the 7th (local time). 2021.12.7 logos@yna.co.kr [Provided by KOTRA. Resale and DB prohibited]
(Tehran = Yonhap News) Correspondent Lee Seung-min = A Korean company experimentally installed an eco-friendly seawater desalination device using renewable energy in Oman, the Middle East.
According to the Korea Trade-Investment Promotion Agency (KOTRA) on the 7th (local time), Prosave installed two seawater desalination units jointly with the Middle East Desalination Research Center (MEDRC) in Muscat, the capital of Oman, on the same day.
This experiment was conducted with the support of KOTRA and the Ministry of Environment's 'Environment and Technology International Joint Local Commercialization Support Project'.
KOTRA explained that the seawater desalination machine installed on this day is operated using solar heat and solar power and does not need to use external power.
This facility produces about 32 tons of fresh water using 56 kW of electricity per day during the time when there is sunlight (based on 8 hours a day).
A solar panel can generate 350 kW of electricity per day, and the excess electricity can be used for other purposes.
This seawater desalination machine is expected to be widely used for freshwater production in areas where electricity supply is difficult or in places where solar energy resources are abundant, such as the Middle East.
Kim Young-man, CEO of Prosave, said, "In the past, experiments were conducted only in Korea, so the performance could not be properly confirmed, but this demonstration experiment in the Middle East is expected to be of great help in future commercialization and export."
Kim Se-jin, head of trade at KOTRA Muscat, said, "With the support of the Korean government, we hope that the eco-friendly seawater desalination machine developed by small and medium-sized enterprises will be successfully tested in the field and will be widely used in water-scarce countries in the future."
[출처 : 연합뉴스 https://www.yna.co.kr/view/AKR20211207166300111]